I've had the Blu-ray of Morning Musume.'14 Concert Tour 2014 Aki Give Me More Love - Michishige Sayumi Sotsugyo Kinen Special since February, but I didn't watch it until this past weekend. Frankly, I'd dreaded watching Sayumi Michishige's graduation because I knew how sad it would be for me. Sayumi's the last connection to the Morning Musume I knew when I became a fan ten years ago. She was still a relatively new member in that first concert I saw (Hello! Project Winter 2004). And pretty much everything I've watched with MM this past year has still had Sayumi in it. My God, she was there on stage a year ago when I saw them live at the Best Buy Theater in New York on October 5, 2014, remember?





Yes, it was sad and depressing watching this concert because I knew it would be Sayumi's last. But at the same time it was joyful, because Sayumi was in her element and made the most of it, like when she squeezed in an impromptu kiss on Riho's cheek during one song, causing Riho to break and leave a line unsung.



And there were great closeups of Sayumi throughout:



I'm not going to review the whole concert, which was just fine as it is, as good as anything the girls have done recently since they're all at the top of their game. I'm just going to focus on highlights and the spectacle of Sayumi's graduation in the massive Yokohama Arena. The producers really outdid themselves in some areas of the concert.



First off, they opened with a three-song set that has them striding out to the stage and along the runway, with Sayumi leading the way, as grand an entrance as I've seen from them.



Then they came up with a fresh idea for the Members Intro VTR segment that opens every concert. They used video footage of Sayumi on a couch and, as each member enters to greet her in turn, one at a time, their name is flashed onscreen until all ten members are there.



This was followed by my favorite MM song of recent years, "Toki wo Koe, Sora wo Koe," which they also sang at the New York concert.



Later on, Sayumi called out the four freshly minted new members of Morning Musume's 12th Generation and introduced them:


They are: Haruna Ogata, Miki Nonaka, Maria Makino, and Akane Haga. Two of them are the first MM members born in the 21st Century.

Later in the concert, Sayumi greets three special guests, come to deliver flowers and give her their congratulations. Yuko Nakazawa, the oldest former member of MM and the first group leader, came out first:


…followed by Maimi Yajima, current leader of C-ute:


…and Reina Tanaka, lead singer with LoVendor, and one of Sayumi's 6th Gen compadres in MM (and the last pre-9th Gen member to graduate before Sayumi):



This is followed by a 13-song medley that included fairly recent songs and old classics like "Renai Revolution 21" and "Love Machine."



MM does a good job on "Shabondama," the first 6th Gen song and the oldest song they could sing here with a member who performed on the original.


This song was included in the very first concert I watched ten years ago.

Finally, the graduation. The nine members of , 9th, 10th, and 11th Generations come out in white dresses and sing a new song from their latest three-song single, "Mikaeri Bijin," a beautiful song and one which was composed for the occasion. Sayumi comes out in a red kimono.



She then walks down the runway of Yokohama Arena, in a slow and stately fashion, in the manner of a grand Japanese lady of the old school, trying ever so hard to stay composed.



She then returns.


What a magnificent performance.

She then goes through the process of final goodbyes to each member of the group, including the four new girls. Mizuki gives her flowers and the others step up one at a time to deliver their messages of love, affection, and gratitude. Sayumi was genuinely adored, respected and looked up to by this group of members. I think the only ones who've come close in the past to this kind of universal love from all the other members were Natsumi Abe and Ai Takahashi.



All are in tears as they approach her—with one exception.


Erina is the Yossi/Miki of this bunch. I don't doubt that she was just as filled with emotion as the others, she's just better at holding it in. I don't recall if she cried during Ai-chan's graduation or not. I need to check.



Sayumi then comes out in a new gown, covered with flowers (real or fake?) and gives her graduation speech to the fans, an eloquent address, filled with honest assessments and sincerity. (I've pasted the translation below, at the bottom of this entry.)



She then heads out onto the runway to do her final solo, "Akai Freesia," a Melon Kinenbi song that she used for the audition 12 years earlier which got her into MM.


How lucky she picked a song she could actually sing well. (There aren't many of those.)

Then the other girls come out in new costumes and join her for "Aruiteru."



For the last song, the rousing "Happy Daisakusen," my second favorite MM song of the last five years, Sayumi sheds her gown to reveal a costume identical to the one the others are wearing and sings her last song with Morning Musume.



They then say their goodbyes to the thousands of fans assembled in the Yokohama Arena while the end credits roll.



Sayumi is the last to leave.



We then return to the VTR segment with Sayumi and the others on the couch. One by one they leave, until Sayumi is alone.



She then walks away, leaving her book on the couch and we finally see the title:


January 19, 2003 to November 26, 2014. Almost twelve years, the longest single tenure of any Morning Musume member in history.

Amazing how this concert bookends my ten years of fandom with the H!P Winter 2004 concert, which started it all. Both had emotional graduations and were ten years apart (Nacchi in 2004, Sayumi in 2014) and both were at the Yokohama Arena. And I watched this just over a month after the tenth anniversary of my viewing of the 2004 concert. (I should have watched it on the exact tenth anniversary, but I was busy that day with my karaoke celebration of the tenth, included in my previous entry.)



Sayumi was, for a time, a somewhat problematic member of MM. She was never a very good singer or dancer, limitations she has always been quick to acknowledge, and in recent performances the producers have sometimes relied on auto-tune to cover it up. Yet she was beautiful and sexy (arguably the sexiest member after Yuko Nakazawa) and became, for quite a long stretch, the public face of MM, appearing on numerous TV shows and public events to promote the group. And she did an excellent job of it. And as the new girls joined in 2011 and 2012, she maintained a link to the group's glory days when members of First, Second, Fourth, Fifth and Sixth Gens dominated the group. She presided over a transition to a new wave of glory as the new girls excelled and infused the group with a fresh look and sound which invigorated long-time fans and attracted many new ones. In many ways, the group is as good as it's ever been. Only Sayumi could have done it. She was the right leader at the right time.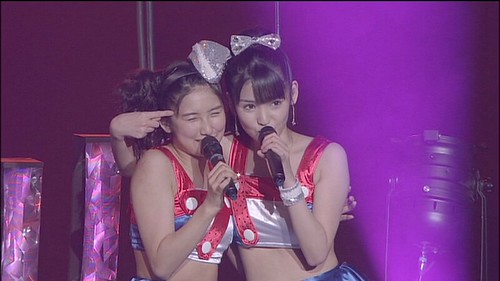 She will be missed.

And here is her graduation speech as posted on Jplop.com and translated by Koregaboku:

Everyone, thank you for the Sayumin call and pinklight very much.

I, Michishige Sayumi, will graduate today, Nov. 26 2014 from Morning Musume.

I hope to tell you my feelings properly so please listen. In 2002 I took the Morning Musume audition and on January 19, 2003 I became a 6th generation member of the Morning Musume that I loved so much. It wasn't that I had an interest in the entertainment industry or even in singing or dancing but I wanted to be part of Morning Musume that I loved. In 12 years I have experienced so much. I stood on stage with the other members singing and dancing, although there were times today where I couldn't really dance, and appeared on TV, which was new and great, and I was able to visit many places on tour.

For the first few years I had no solo parts and even though there was a spot on stage for me I began to wonder whether my existence in Morning Musume even made a difference. However the love I had for Morning Musume never changed and I was able to get to this point.

Sometimes no matter how hard you try it doesn't go well and sometimes no matter how hard you work you don't feel rewarded/compensated (mukumawareru). However I was able to learn from Morning Musume that even if it's little by little you're moving forward and I was even able to become the Leader that I wanted to become so badly.

After I became Leader it wasn't necessarily smooth sailing and there were times where I would lose my appetite thinking about how hard everything was. But I had fans that would hold me up with their tremendous amount of love.

I think… That fans of Sayu are weird. That they're different. I always thought of my fans as a congregation of odd people. I thought this because there were members who could sing better, dance better, and members who wouldn't hurt their feet on such an important day like this. Plus there are so many celebrities that are much more enchanting than me but still my fans cheered me on. It's not like I could do anything special, and today I wasn't able to do anything well at all. The only thing first rate about me is my talking but I do think that I'm on the cuter side of the spectrum, but I'm totally the type to say these kind of things about myself. Normally, that's not the kind of idol you want to support, right?

But, my slightly weird fans came out to support me in the sunshine, rain, snowstorms, typhoons, and even in thunderstorms. You gave your all to support me. You gave me courage, power, kindness, strength, confidence, and a sense of calm. And you gave me your love. I'm so glad I met you all. Thank you for finding me, for supporting me.

I was able to meet all of you because I became a part of Morning Musume. You all gave "Michishige Sayumi"/my existence a reason. I was born to become a part of MM. That makes me glad that I was born. I'm glad that my fans are you and not anyone else. Thanks weirdos. Thank you so much.

And by the time I realized it not a single member that I started with 12 years ago is left. But now by my side are the 9th, 10th, and 11th generations. The time I spent with them was so much fun. We laughed a lot. But there were times when I got mad. Yet they still told me "I love Michishige-san!" and that made me so happy. I cannot help but feel a bunch of endearment for them. They are the best juniors I have ever had. I believe that they can keep doing more and more. I will continue to watch over them.

There were scenes that I've said a bunch of times on TV and in magazine interviews that I wanted to show my juniors but this is the scene that I wanted to show them. This is the last thing that I can pay back to them. It is because of my graduation that I could show them this but I want them to be able to hold a stand-alone concert and stand here and see this scene. I also want them to continue to see bigger scenes that I have never seen. At that time I'll probably be part of the scenery that they'll be looking at.

Finally, please let me say this to all of you; thank you so much for everything up until now.

Please listen to the song that started my life. I sang this song to become part of MM. I'll put my heart into singing this song; "Akai Freesia".


P.S. Don't forget my photo tribute to Sayumi from October 12, 2013, celebrating her ten years in Morning Musume:
http://madara-blog.livejournal.com/86017.html